Commercial Concrete Flooring – Office
There are many things a business can do to make their office look more professional and flooring is one of them. Commercial flooring is a crucial component when it comes to interior décor of your office. It can give an aesthetic look to your office and also defines your taste and choice.
Whenever anyone enters into an office, flooring is the first thing that catches your eye. As you hear "First impression is the last impression", so why don't to make your first impression impressive. And choosing commercial flooring Sydney can be the first step to making your dream come true. It gives a long-lasting and mesmerising look to your indoors flooring.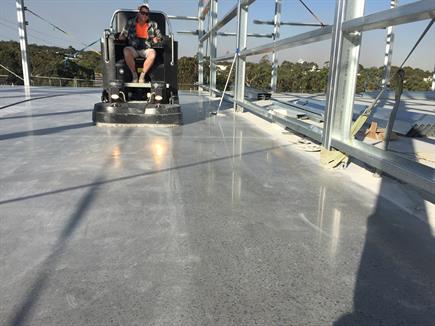 To give the perfect appearance to your business space, you need to consider the different options for industrial flooring. Before choosing any of the flooring options, think about all the factors for which you're using it. Think about the usage, environment, and traffic in your mind. You have numerous options available as per your space requirement. You also need to think about the safety, comfort, maintenance, replacement, and durability while choosing any of the flooring options.
There is a range of options when it comes to selecting the right flooring type. Here is a list of different commercial flooring options from which you can choose:
Commercial Flooring Options
1. Commercial hardwood flooring: This is considered as the least affordable and lavish solution when it comes to commercial flooring. It provides an extraordinary and classic look that will last long. It comes in different textures, colours, and finishes; you may pick any of them as per your preferences. No matter what is your business type, it is a classic option that will always remain a preferred choice but for most commercial establishment it is just not feasible as the maintenance and relative short wear resistance.
2. Commercial concrete flooring Sydney: This is a reasonably priced option that most people want to opt for their commercial needs. This is a highly durable and easy to maintain option for your industrial space. Industrial concrete floor finishes Sydney can be modified to create interesting designs on the floor. This is a cost-effective flooring option which provides a professional look to your office and can be polished to a high class modern look.
3. Commercial tile flooring: This is the type you see in most of the commercial places. You can use this durable and elegant flooring option in your office. It is an option if you prefer style, comfort, elegance, and convenience. Available in different colours, designs, and textures, choose one as per your office needs and the traffic you're going to deal with. Keeping it clean is very easy. The process of installation is little longer as it takes some time to get dry. Once the process is completed, it gives a rustic look to your space and very costly to lay.
4. Commercial polished concrete floors Sydney: Polished flooring encompass a variety of flooring options with a gloss or polished surface finish. You must have seen these floorings in hotels or high-end homes. They look highly modern and artistic. So, commercial concrete polished floors in Sydney can be another great choice.
Polished flooring enhances the natural effect of the concrete flooring by giving it a fantastic polished finish. The experts of industrial polished concrete floors can change your ordinary concrete into a high-end floor and give a flawless appeal and shine. It has many different types further such as cream polish, aggregate polish, salt and pepper polish and more.
5. Commercial vinyl flooring: There is a range of vinyl flooring types available in the market which are perfect for the commercial uses. A convenient option for any kind of traffic you are going to deal with. This is a big room of surprises with so many types including vinyl planks, vinyl sheets, vinyl tiles, and more with different textures. Pricing varies and can quality depends on supplier, so lots of research is required. Also, it looks realistic and pleasant. In short, it is a great and versatile option for all types of office environments.
6. Commercial rubber flooring: Like vinyl flooring, rubber flooring is ideal for areas where flow of traffic is relatively high such as offices, hospitals, and restaurants. Additionally, this flooring type is resistant to heat and water and is easy to maintain. It also provides a nonslip surface. Available in different colours, styles, patterns, and textures, you may pick any of them which don't sacrifice your style or match other components of the space.
These are different types of commercial flooring used in most of the organisations. Selecting the one for your business is a big decision. You are going to invest time to make sure it is durable for years. Also, instead of going with any type of flooring, you can go with a mix of several. Match the different types of flooring together to create a unique design within the same commercial area. Just remember, the different flooring types you're choosing complement one another. Be creative and think outside the box to give a pleasing look to your space.
To add a classy touch to your office interior, you need to hire the best industrial flooring designer of the industry. Don't pick the very first you meet. Do proper research and then choose the one which is suitable and meets your all requirements. The best flooring designers help you choose the latest designs available in the market and give you hundreds of ideas to complement the overall theme of your office. They use the latest, environmentally-friendly techniques and materials, and know how to give the perfect look to your office space.
Whether you're looking to add flooring to your new office or looking to renovate it, take all crucial factors into consideration we discussed earlier. Hire an experienced commercial flooring designer and give a refreshing feel to your commercial space.