Polished Concrete vs. Epoxy Floor Coating: which option is better for commercial flooring?
Looking for an ideal flooring system that fits both your facility and budget? When it comes to industrial flooring solutions, the choices are many. The choices are so many that it often confuses people. In this section, we will talk about the most common differences between epoxy and commercial polished concrete flooring.
Polished concrete
Polished concrete flooring is one of the most popular flooring solutions for commercial and industrial spaces. It is highly resistant to wear and tear, skid resistance, easy maintenance, cost-effectiveness, and long-lasting durability. It has an attractive finish that can be customised with different colours and designs. Polished concrete floors are also very hygienic as they don't require sealants or waxes and have few crevices where dirt can get trapped.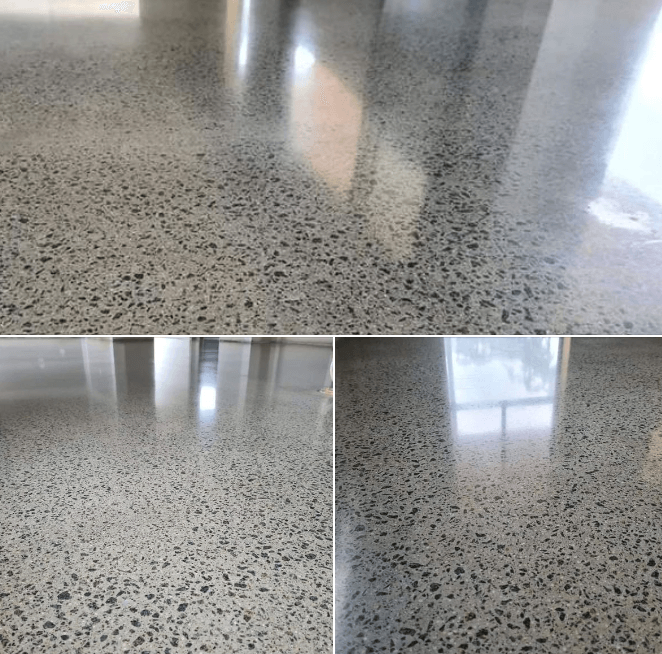 Epoxy floor coating
Epoxy is a type of resin that, when applied, bonds to concrete surfaces creating a strong, waterproof, and chemical-resistant finish. It provides smoothness and slip resistance to the surface. Epoxy also offers a range of colour options, design flexibility and fast installation times. It is often used in areas with heavy traffic or footfall as it is abrasion resistant and has a long lifespan.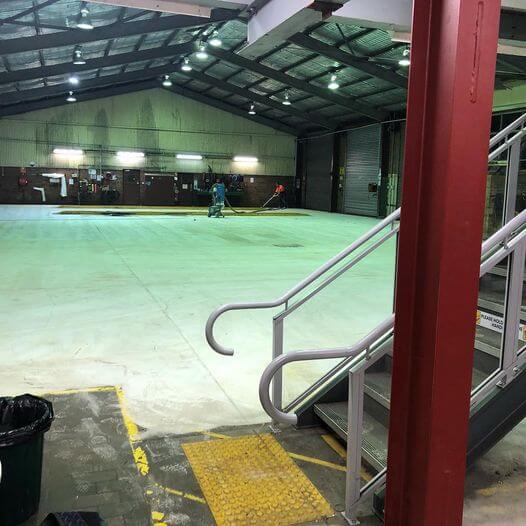 Selecting the right concrete flooring
Selecting the right industrial flooring is one of the most important decisions to make. Polished concrete floors have become the first priority not only in modern and retail office spaces but also in distribution centres and warehouses. Nowadays, refinishing your floors is a reliable and budget-friendly investment. Not only does it bring out the best in your surfaces, but you can also count on its enduring quality for years to come.
Both polished concrete and epoxy floor coating are considered good choices for industrial flooring. Both systems are known to be budget-friendly and efficient and promise to give a unique look to the floor. Let's discuss which option is an excellent fit for your business or company.
Polished Concrete Floor and Epoxy Coating Floors
In this section, you will read about industrial concrete flooring and epoxy coating floors. Continue reading:
Polished Concrete Floor
Polished concrete flooring is considered an environment-friendly and cost-effective option for flooring. During the installation process, polishing machines are used to grind down the concrete surface which helps create a smooth and shiny surface. Take a look at the benefits and strengths of going with a polished concrete floor:
Image: Polished Concrete Flooring
Gives a smooth and clean surface that doesn't peel or scratch need for sealants or waxes, making it easier to clean and maintain.
Offers a wide range of colour options to match your existing decor Reduces dust mites because of the lack of crevices where dirt can get trapped Provides superior skid resistance and durability.
Can be used in both indoor and outdoor settings. Epoxy Coating Floors is also a great flooring option for industrial spaces, as it provides superior chemical resistance and waterproof protection. During the installation process, a two-component epoxy resin is applied to the concrete surface creating an instant protective layer that's extremely durable and attractive.
Enhances light reflectivity by 100% which is perfect for larger spaces.Provides a glossy, high-gloss finish that's resistant to scratches and scuffs. Reduces humidity and dust levels by trapping moisture within the surface. It comes in a variety of colours and patterns to match your existing decor. Excellent resistance to heat, fire, oils, and other chemicals.
Reduces the accumulation of waste, debris, and dust mites. Easy to clean and maintain with regular sweeping and mopping.
Hardens the concrete by 40%-50% which gives a more durable finish.
Epoxy Floor Coating
Epoxy coating is the oldest and most common type of commercial flooring. This is made of two different epoxy-coated hardeners, and another resin. When these two compounds are blended together, they build a chemical bond. As a result, you get a strong and quality epoxy coated floor. There are many advantages to choosing an epoxy coated floor. Here are some of them:
Image: Commercial Epoxy Flooring
Improves the reflectivity of the light by 300% which is perfect for areas with low light levels. Offers a wide range of colours, designs and patterns to match the existing decor.
Provides superior chemical resistance & waterproofing protection. Extremely durable and long-lasting floor surface that can withstand high traffic and footfall.
Doesn't react to chemicals in case of accidental spillage on the floor.
Reduces dust mites and other allergens due to its smooth surface.
Increases the life of the floor, reducing the need for frequent repairs and maintenance.
Blends easily with concrete or cement surfaces for a seamless look.
Provides non-slippery surface, ensuring safety for everyone using the area.
Water-resistant property helps in preventing the growth of bacteria, mould and mildew.
Prevents cracking and peeling of the floor due to its thick protective layer.
Advantages of Polished Concrete vs. Epoxy Coating on Concrete Floors
Let's compare both these flooring systems with each other to find out which is the better one. Here's a quick comparison between the benefits of these two. This should help you and make an informed decision as to which type of flooring to go with.
1. Life Cycle:
This factor determines the longevity of the floor and how long it can last without requiring maintenance.
Polished Concrete: There are several levels of industrial polished concrete floor. They have different sheens (low to high) and various refinements. Refinements are related to the lifetime of the floor. A properly refined polished floor can last up to 10 years. Most importantly, the cost of refurbishing will only be a fraction of the initial installation cost.
Epoxy Coating: The installation cost of epoxy coated floor is twice the cost of polished concrete floor. The lifetime of epoxy depends on the traffic and the volume it has to withstand. Typically, it can between 3 to 5 years. During refurbishment, in order to cover the removal of the first coating, you may have more than the initial installation.
2. Aesthetics
Polished Concrete: This is an attractive option for flooring. It can remain presentable and clean for a long time, if maintained properly.
Epoxy Coating: This type of flooring requires regular maintenance. It can become an eyesore once it begins to flake, peel, or chip.
3. Durability
Can it hold-up under heavy machinery movement?
Polished Concrete: This flooring system can endure a lot of heavy machinery movement.
Epoxy Coating: This system is less durable than polished concrete flooring.
4. Easy to maintain
How easy it is to maintain/clean the floor.
Polished Concrete: You can clean this floor using water only. To maintain its luster for a long time, you can add some additives to an auto scrubber. Regular auto scrubbing can be a great idea (depends on the amount of wear and tear).
Epoxy Coating: It can also be maintained with water, but, additional additives such as detergents are must to remove dust and debris build-up. Maintenance can become very difficult once epoxy starts to flake or peel.
5. Acid or Chemical Resistance
Polished Concrete: This flooring system is not resistant to chemical. Heavy chemicals and acids can corrode the surface. They make the floor look dull making it difficult to maintain. To make it acid-resistant, coating is necessary.
Epoxy Coating – One of the reasons that makes epoxy a preferred choice for flooring is its ability to not react to chemicals.
The above comparison makes it abundantly clear that both options have various features and benefits to offer. But when it comes to picking anyone polished concrete floor is always a better option. Contact the industrial concrete flooring contractors and get a smooth, durable, and high-quality industrial flooring for years to come.
As you know, concrete flooring industry is a specialised stream. You can select from several concrete flooring contractors in the industry. Do your due diligence and thorough research while choosing a flooring contractor for your business. Make sure to find a contractor who has a considerable amount of experience.
Before starting the service contract, ask relevant questions related to your flooring needs. Ensure that the particular contractor is aware of all type of surfaces and can guide with the best deal in the market.
Conclusion
Making the right decision when it comes to commercial concrete floors can be a daunting task. But, comparing different options and thoroughly researching about them can help you make an informed decision. Whether you choose polished concrete or epoxy coated flooring, refer to the above comparison and make sure that your business floor is safe, durable and aesthetically pleasing. For more help, contact Flash Flooring. With their expertise and knowledge, you can get the best flooring solution for your business.