Polished Concrete Wollongong & Sydney
Polished concrete is a great way to add value to your home and it's also more practical than people think. Polished concrete is a tradesperson's dream for adding value and practicality to any home. Concrete polishing provides a smooth, durable surface that is easy to clean and maintain, making it perfect for high-traffic areas. Not to mention, a concrete floor is also a cost-effective solution, making it a popular choice among savvy homeowners. As tradespeople, we understand the importance of functionality and aesthetics in a home and polished concrete checks both of those boxes. With a variety of finishes available, it's easy to find a look that complements the style of any home. So, if you're looking to add value and functionality to your home, consider the many benefits of a polished concrete floor.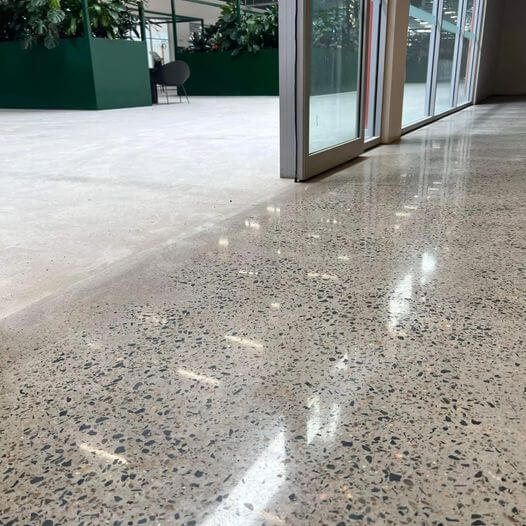 Actual Concrete has been the backbone of the construction industry for ages, and its versatility continues to amaze us. In recent years, one of the most significant innovations in concrete application has been polished concrete flooring. It's time to say goodbye to the traditional floor coverings and opt for something more durable and long-lasting. Polished concrete floors boast a level of toughness that can withstand the grueling demands of everyday use. They are easy to maintain, and their unmatchable shine and sleek finish make them the perfect addition to your home or workspace. Not only does polished concrete flooring allow for a wide range of design possibilities, they can also be applied both indoors and outdoors for a uniform look. Don't let carpet, tile, or hardwood fool you – polished concrete flooring is a tradesman's best-kept secret!
If you're looking for a practical, low-maintenance flooring option for your home or business, polished concrete floors might be just the thing. But before you jump into concrete polishing, it's important to know what you're getting into. Concrete polishing involves grinding down an existing floor – usually a slab-on-grade or garage floor – and then polishing the surface with an industrial diamond grinding wheel. This creates a smooth, shiny finish that's easy to clean and maintain. But that's not all – with the right sealer, polished concrete floors can also be quite stylish, with a sleek, modern aesthetic. So if you're looking for a flooring option that's both practical and attractive, polished concrete might be just what you need.
Polishing Concrete
At Flash Flooring – Wollongong and Sydney, we specialise in providing our clients with the highest quality polished concrete flooring services. Our experienced team of professionals use only the best equipment and techniques to ensure that your floors look perfect every time. We understand how important it is to have beautiful and durable floors, which is why we use the latest technology and techniques for polishing concrete to ensure that your polished concrete floors are always of the highest quality. Our team works with you every step of the way, from initial consultation to installation, ensuring that all your needs are met. We also offer a range of finishes and sealers that can be used to further enhance the look and longevity of your concrete floors. With our highly-skilled team and top-notch customer service, you can be sure that your concrete flooring project will turn out just the way you envisioned it.
We provide our clients with high-quality polishing concrete services and are dedicated to making sure that your flooring project is a success. With our experienced team, quality products, and professional service, you can be certain that your polished concrete floors will look amazing for years to come!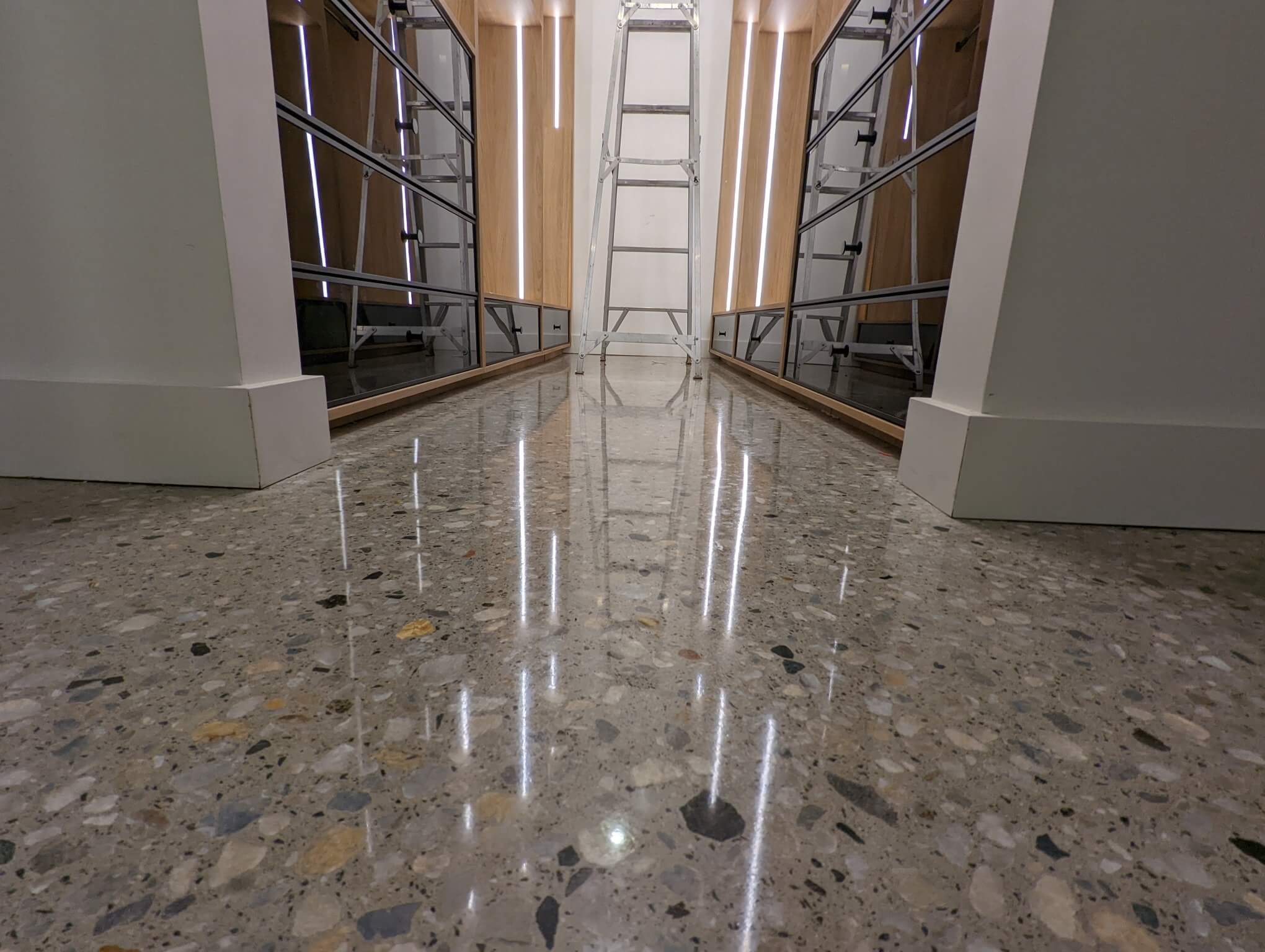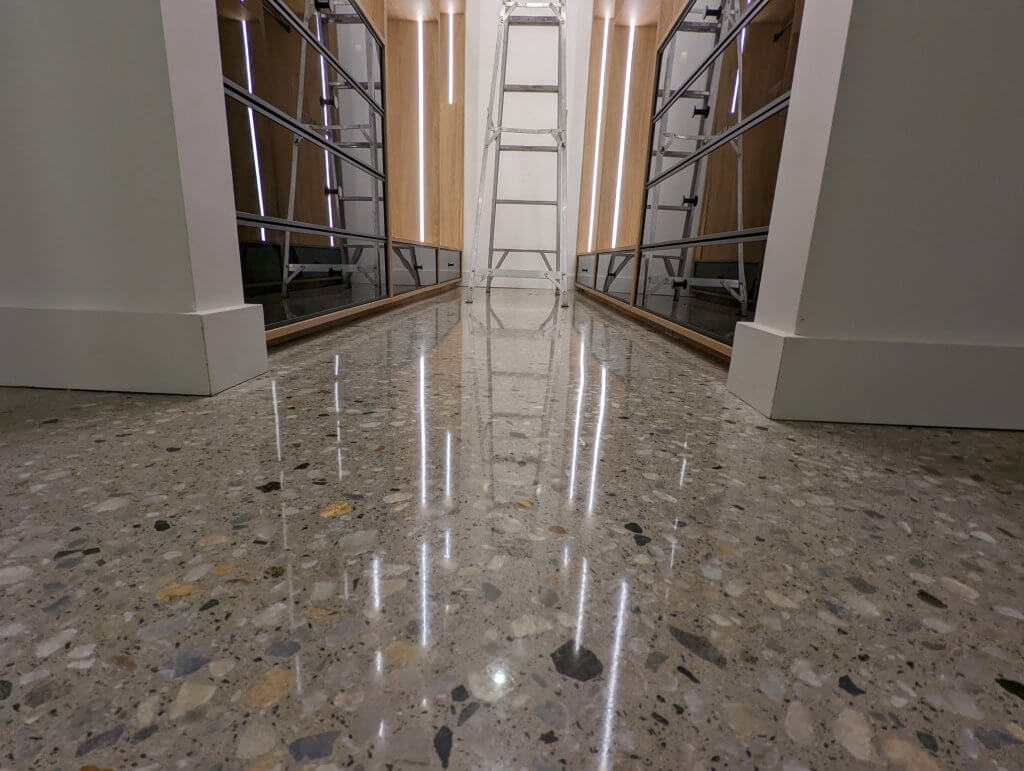 Honed Concrete
Honed concrete is a specialised type of polished concrete that uses a process called "honing" to achieve its unique finish. Unlike standard polished concrete, honed concrete is not as glossy and does not reflect light as much as polished concrete does. The result is a more subtle and natural looking flooring solution. As with all other types of concrete, honing involves grinding the surface down with an industrial diamond grinding wheel to create a smooth and uniform finish. The difference is that the amount of pressure used in honing is much lower than polishing, resulting in a matte-like finish. This makes it ideal for areas such as living rooms and bedrooms where you want a softer look.
Honed concrete is also more absorbent than polished concrete and can hold onto stains and spills better, making it easier to clean. Additionally, honed concrete is less slippery than polished concrete, making it a great choice for bathrooms and other wet areas.
Because of its unique look and impressive durability, honed concrete has become increasingly popular for both residential and commercial spaces. Whether you're looking for a subtle flooring solution that won't reflect too much light or you want something easy to clean, honed concrete is an excellent option to consider.
Exposed Aggregate
Exposed aggregate is a type of concrete flooring that uses a process known as "exposure" to reveal the natural beauty of the aggregates (rocks, sand, and gravel) that are mixed into the concrete. This creates an interesting and unique textured finish that can be further enhanced with various stains and dyes. Exposed aggregate is also incredibly durable and can withstand heavy foot traffic, making it an ideal choice for areas such as entryways and commercial spaces.
Honed Concrete Lasts Longer
No matter what type of concrete you choose for your project, it's important to remember that concrete is a very durable material. However, honed concrete has some extra benefits that make it even more long lasting than standard polished concrete. The process of grinding down the surface creates an incredibly strong and dense flooring solution that can withstand heavy traffic and wear better than polished concrete. Additionally, honed concrete is less prone to staining and etching than polished concrete, making it a great option for high traffic areas such as commercial spaces.
Overall, honed concrete is an excellent flooring solution that offers both style and durability and honed concrete lasts longer. With its matte finish and long-lasting quality, honed concrete is an ideal choice for any project. With the help of our professional team, you can be sure that your honed concrete will look amazing and last for years to come!
Seal Method
Once the concrete is polished or honed, it's important to use the seal method it in order to protect it from dirt and moisture. At Flash Flooring – Wollongong and Sydney, we offer a variety of sealers that can be applied to your concrete floors. From water-based acrylic sealers to solvent-based urethane sealers, our team can help you choose the best sealer for your needs. The type of sealer you choose will depend on the intended use of the floor and its location.
Grinding Process
The process of honing concrete involves grinding down the surface to create a smooth and uniform finish. The amount of pressure used in honing is much lower than polishing, resulting in a matte-like finish. This makes it ideal for areas such as living rooms and bedrooms where you want a softer look.
At Concrete Flooring Solutions, we are experts in the honing process and use only the best diamond grinding wheels to ensure a perfect finish. We understand how important it is for our clients to get a high-quality product that will last years and our team puts their all into every project. With our experienced team and quality products, you can be certain that your honed concrete floors will look amazing!
No matter which sealer you decide to go with, it's important to ensure that it is properly applied in order to get the maximum protection and longevity out of your polished or honed concrete surfaces. We are experienced in applying sealers to all types of concrete floors, ensuring that your finished product looks beautiful and stays durable for years to come.
Polished Concrete Look
If you love the look of polished concrete but don't want to commit to the full process, consider getting a "polished concrete look." This is an increasingly popular option for residential and commercial spaces that offers many of the same benefits as traditional polished concrete without all the hassle.
A polished concrete look can be achieved by using a variety of treatments, such as acid staining and hard wax sealing. Acid staining is the process of neutralizing an acid-based solution with an alkaline-based one to create a unique color pattern in the concrete substrate, while hard wax seals help protect the concrete from dirt and wear and tear. Both processes can be used to achieve a glossy finish that looks just like polished concrete.
By opting for a polished look, you can enjoy the and durability of traditional polished concrete floors without the hassle or expense of having them professionally installed. This makes it an ideal choice for those who want beautiful flooring without breaking the bank.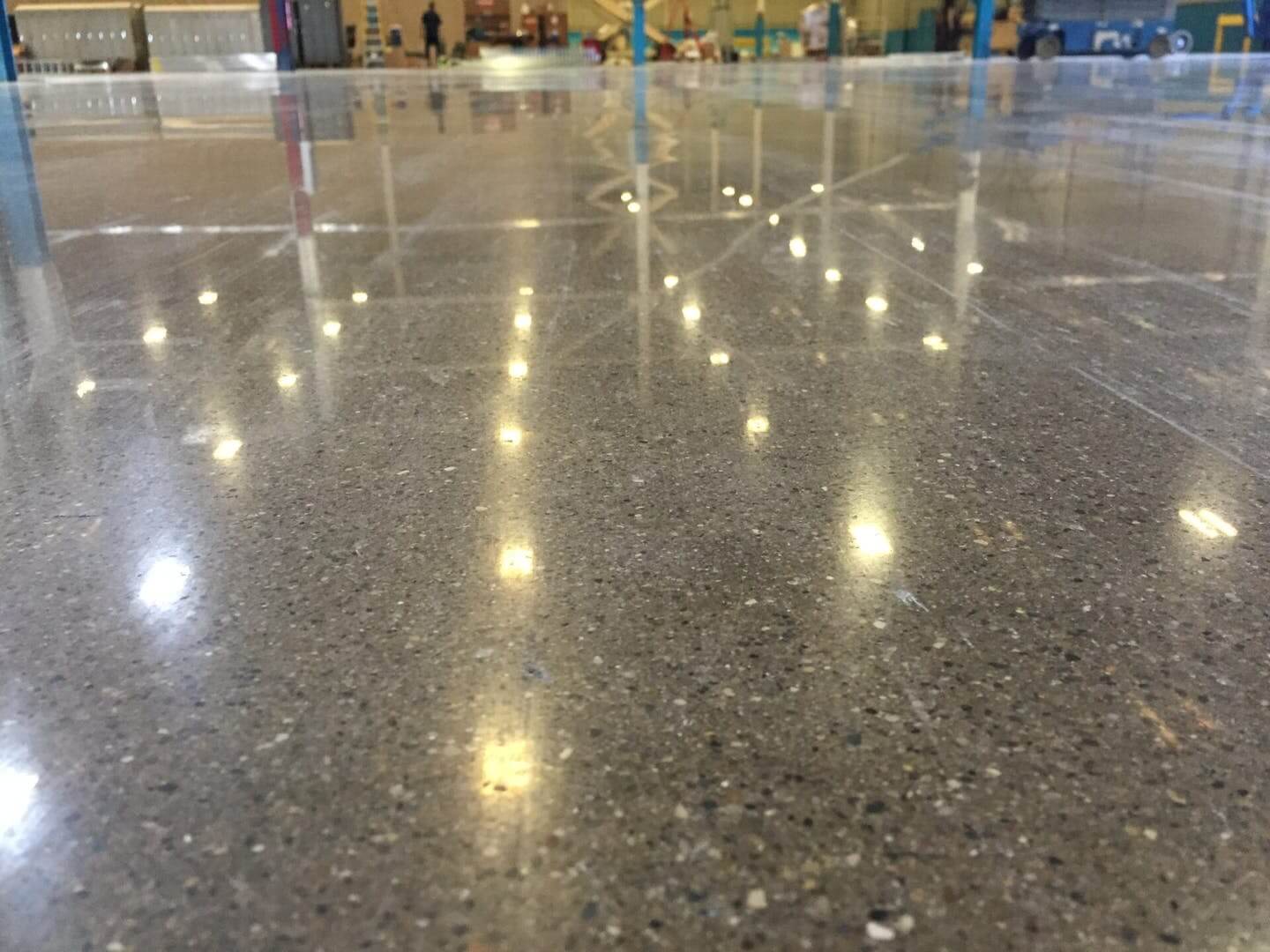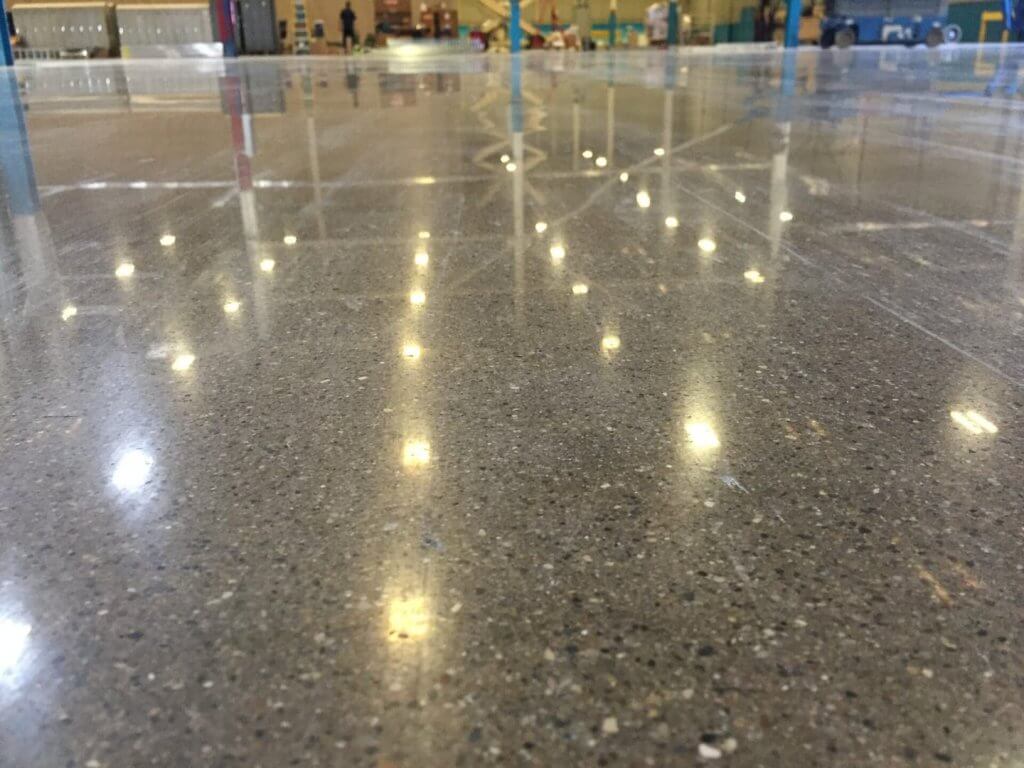 Characteristics of Polished Concrete Floor
Polished concrete is a tradesman's dream. Its durability is second to none, and it boasts a host of other advantages too. Non-absorbent, fireproof, and soundproof, this material can handle the toughest conditions. As if that wasn't enough, it's also resistant to mould and mildew. But what really sets polished concrete apart is its versatility. Its ability to insulate when used with radiant heating systems makes it perfect for any room in the house, from basements and bathrooms to kitchens and garages. Even outdoor areas like porches can benefit from this polished concrete.
Benefits of Polished Concrete Floor Over Other Flooring Options
When it comes to flooring, toughness is a top priority. That's why concrete floors are the go-to choice for tradespeople who want a surface that can stand up to heavy-duty use. Unlike tiles that can crack under the weight of heavy equipment or wood that can wear down over time, polished concrete floor is virtually indestructible. This means you won't have to worry about replacing tiles or spending time on regular maintenance to keep your wood floors looking their best. With concrete, you can focus on the work at hand, knowing your floor will withstand any challenge. So if you're looking for a reliable, long-lasting flooring solution, concrete floors are the way to go.
When it comes to flooring options, concrete polishing is a smart choice for both practicality and aesthetics. The polished surface not only provides a sleek and modern look, but it's also incredibly easy to clean, making it perfect for families with young children. In addition, the ability to create unique designs and patterns sets polished concrete apart from other flooring options. But it's not just about the look—polished concrete also offers a smooth finish that's comfortable underfoot and remains pleasant to look at, even when not freshly polished. These benefits make it an excellent choice for basements and other areas primarily used for storage. It's no wonder why concrete polishing continues to grow in popularity in the trade industry.
Removing Tile to Re-Polish Concrete Floors
As a trades professional, you know that every project comes with its own set of challenges. When it comes to flooring, sometimes clients want a polished concrete finish but don't want to go through the hassle and expense of removing their current flooring first. Luckily, if their existing tile is in good condition, you can offer them the option of polishing the concrete directly. This not only saves them money but also allows you to showcase your expertise in working with different flooring materials.
When it comes to concrete polishing, it's always best to call in the experts at Flash Flooring. Whether you're looking to revamp your garage floor or polish up a concrete slab on grade, a skilled tradesperson can help you achieve the high-quality finish you're after. However, it's important to keep in mind that polishing an unfinished slab can be more challenging due to its exposure to the elements. With years of experience and specialised equipment, a Flash Flooring professional concrete polishing contractor can tackle the job with ease, leaving you with a long-lasting and beautiful surface that you can be proud of. Don't settle for less than the best – enlist the help of a Flash Flooring for mechanically polished concrete.
If you're planning on polishing up your old tile, it's important to keep the floor and surrounding areas free of debris during the process. This can be a bit of a challenge, but it's essential to ensure a smooth finish. However, if you find that your old tile is beyond polishing or not worth the effort, breaking it apart and removing the pieces may be a simpler option. Of course, not everyone is keen on taking on this laborious task, so why not let our team handle it for you? With our expertise in trades, we'll make sure your old tile is removed quickly and efficiently, leaving you with a clean slate for your next project.
Summary
When it comes to flooring, you want something that you can rely on. Something that will stand the test of time and won't require constant upkeep. That's where polished concrete floors come in. Mechanically polished concrete is durable and built to last. Not only that, but they offer endless design possibilities that you won't find with other flooring options. Whether you're a homeowner or a business owner, polished concrete floors will add value and style to your space. So why settle for subpar flooring when you can have the best? Invest in polished concrete floors and see the difference for yourself.