Creating a Healthier Environment for you and your Family is as Easy as Installing Polished Concrete Flooring.
Polished concrete flooring requires minimal maintenance, emits no toxins into the air, and is easy to clean. Its natural reflective properties also help to reduce energy costs by reflecting light instead of absorbing it like traditional carpet or tile. Polished concrete will add a modern look to any room and is durable enough to withstand heavy traffic. In addition, polished concrete flooring can be customised with various colours and patterns to add a personal touch to any space. Not only does polished concrete flooring create a healthier atmosphere for your family, but it is also an affordable and long-lasting investment. With proper care and maintenance, this type of flooring can last for decades without the need for expensive repairs or replacements. So, consider investing in polished concrete flooring for a healthier and more beautiful home.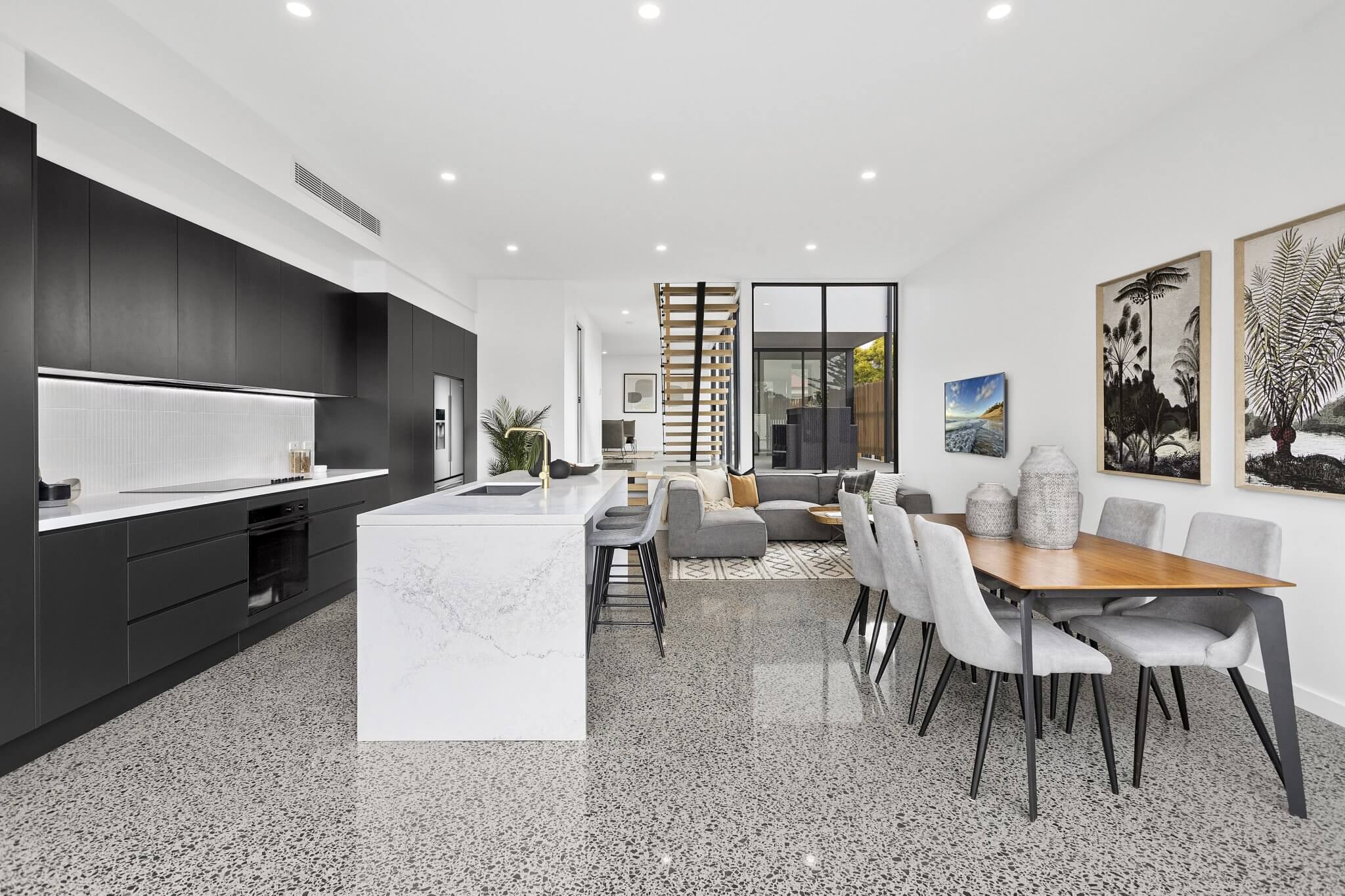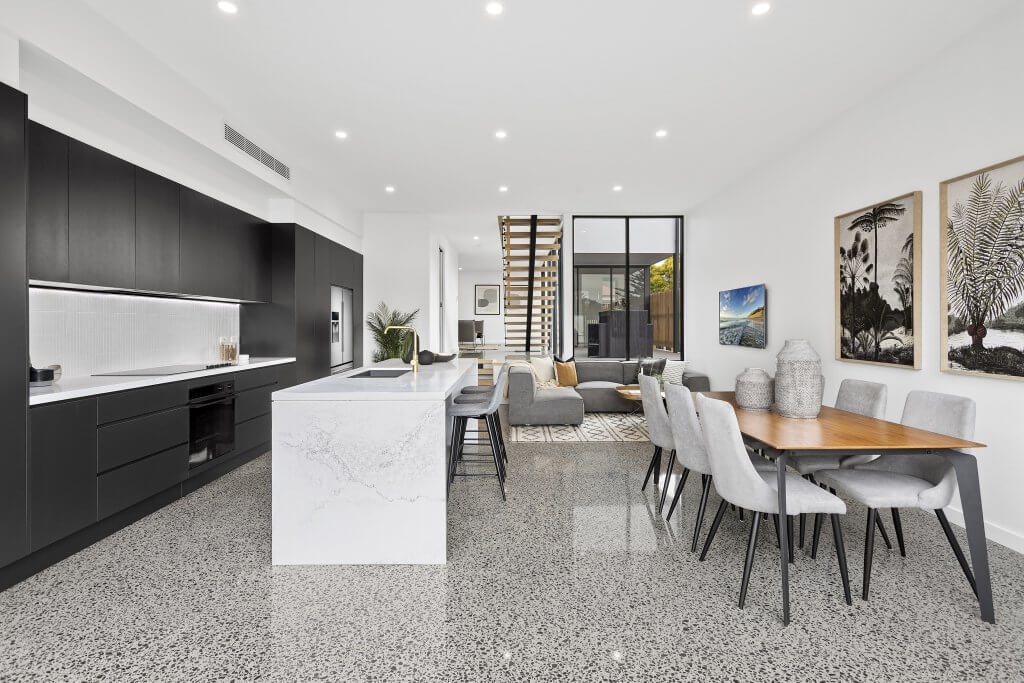 What is Concrete Polishing?
Concrete polishing is a process that uses specialised machinery to grind down the surface of concrete until it reaches the desired level of shine and smoothness. The diamond-abrasive pads are used with a chemical densifier to harden and seal the surface, creating an ultra-durable finish. Concrete polishing can also add texture and colour to the floor, allowing you to customise it to suit your home's style perfectly. The process takes only a few days and requires minimal maintenance to keep it looking its best year after year.
Our Polished Concrete Flooring Service
Flash Flooring has revolutionised how we think about concrete flooring in Sydney and Wollongong with its innovative polished concrete flooring solutions. The company's experienced concrete floor technicians offer the perfect finishing touches to any home or business, with their high-gloss, low-maintenance finish giving you a stunning look that will last for years.
Polished concrete has become a popular choice for many homeowners and businesses in recent years due to its cost effectiveness, durability and range of options available. Flash Flooring have stepped up the game by offering its unique twist on the classic option: a high gloss finish that will give your property a modern, sophisticated look without compromising on quality or longevity.
Not only is Flash Flooring's polished concrete flooring superior to other choices when it comes to aesthetics, but it also provides superior durability. This means you won't have to worry about wear and tear, as regular maintenance, such as resealing, can help preserve the look of your newly polished concrete floors over time. You'll also enjoy all these benefits without breaking the bank, with Flash Flooring keeping their prices competitive against other companies who offer similar services in Sydney and Wollongong.
What makes Flash Flooring stand out even more from competitors is its dedication to customer satisfaction. Their team of experts are passionate about providing top-quality workmanship and ensuring clients are 100% satisfied with their finished product. They understand that installing new floors can be a big decision for some customers so they take extra care to ensure that all questions are answered accurately and promptly so clients can feel confident in choosing Flash Flooring as their go-to source for a polished concrete floor installation or refinishing.
The company also understands how important it is that customers get exactly what they want when undertaking renovation projects like these – no matter how long it takes to do so. Flash Floorings professionals strive hard each day to meet every single one of their client's expectations while still delivering excellent results at a reasonable price point – making them truly one of the best Polished Concrete Flooring Companies in Sydney and Wollongong today!
Honed and Sealed Concrete in Wollongong and Sydney
If you're looking for a floor that's both stylish and long-lasting, Flash Flooring's honed and sealed concrete services could be the perfect solution. This process starts with grinding down the surface of existing concrete, creating a flat, smooth finish. Then a "sealer" is applied, penetrating the concrete, and protecting it from staining and wear. The final result is a floor that's both beautiful and low-maintenance.
Flash Flooring professionals will work with you to create the precise look you're after and can even help you choose sealers in your desired colour, sheen level, or glossiness – giving you full control over the finished product. This is ideal for homeowners who want to add a touch of personalisation to their homes without sacrificing quality or longevity.
Flash Flooring is proud to offer some of the finest Honed and Sealed Concrete services in Sydney and Wollongong, so don't hesitate to get in touch today for a free consultation and quote. With Flash Flooring, quality and satisfaction are always guaranteed!
What Designs are available for Concrete Polished Floors?
When it comes to polished concrete flooring, there are no limits on what designs can be achieved. The experts at Flash Flooring have the knowledge and experience to create a range of unique textures, finishes, colours and patterns – all tailored to your specific needs.
You could opt for a simple matte finish emphasising the natural beauty of the concrete, or go for something more elaborate and eye-catching – like a marbled pattern with subtle colour variations. Whatever you're after, Flash Flooring can help you make it happen.
Additionally, if you're looking for something truly unique or specific to your space, their team can also create custom designs tailored to your exact specifications. With Flash Flooring, the possibilities are endless!
Seven Reasons Why Polished Concrete is a Healthier Flooring Choice
Here are 7 reasons why polished concrete flooring is a healthier flooring choice for your home or business:
End Your Suffering Today: Say Goodbye to Sneezing: If you suffer from dust allergy and chronic sneezing because of wall-to-wall carpeting, then polished concrete floors can relieve you. Carpets hold a ton of pollen, dust mites and other allergens that can cause immense suffering. Concrete floors are great options because they're much easier to clean and don't harbour nearly as many allergens.
Improve the air quality in your home.: Toxic mould exposure leads to severe respiratory illnesses and chronic infections. Mould does not grow on concrete flooring that has been polished, which improves the air quality in your home significantly.
Keep your home air-free of dust: Polished concrete floors in Wollongong and Sydney is great to use with energy-efficient radiant in-floor heating systems. Radiant heating is an excellent way to keep your floors warm and clean. It will also help balance the temperature in your home, saving you money on your utility bills. With radiant heating, there is no possibility of dirt getting back to your floors or interiors.
Fewer Harmful Chemicals in the Environment: Most people worry about the air quality outdoors, but did you know that the air inside your home can be just as harmful, if not more so? Since we spend the majority of our time indoors, it's important to create a safe and healthy environment in our homes. Carpeting materials can emit volatile organic chemicals that can create health hazards. Polished concrete floors in Wollongong and Sydney are healthier alternatives as they do not emit harmful VOCs. They are also very popular for easy maintenance.
Pet Friendliness: We should all care about improving the air quality in our homes, not just for ourselves but also for our beloved pets, who are an integral part of our families. Your pets' paws can come into direct contact with flooring materials, which means they could be exposed to harmful chemicals and pollutants emitted by carpets and other textile floor coverings. Hard surface floors such as tile or linoleum are usually safer for your pets.
Enhance Outlook: Not only will Wollongong and Sydney concrete polishing makes your interior look brighter, but it can also improve your mental and physical health in the long run. The light-reflecting surface will allow you to feel less need for artificial light at night, which not only saves energy but is better for your eyesight.
Add Personal Look: You can add a marble floor depending on your personality, which can bolster your mental health. With polished concrete floors in Wollongong and Sydney, you can add a variety of custom effects as per your taste and mood. You can even have creative patterns and designs installed on your floor if you like.
How do polished concrete floors compare to other flooring options?
Polished concrete floors offer a variety of advantages that other flooring solutions can't match. It is more durable, easier to clean and maintain, and provides superior thermal insulation than many other types of flooring. Polished concrete also has a longer life span than carpet or hardwood, making it more cost-effective in the long run. In addition, polished concrete floors are environmentally friendly and require fewer resources to produce than other flooring materials. They also have excellent sound insulation, making them ideal for noise-sensitive spaces like home offices or entertainment areas. Finally, depending on your design, you can create an aesthetically pleasing look that is unique to your space while still offering all the functional benefits of concrete.
What are the advantages of polished concrete floors?
• Polished concrete flooring is durable and strong, providing a long-lasting investment.
• It can be customised with various colours and patterns to create a unique look in any space.
• Polished concrete floors are easier to clean than other types of flooring, making them a great choice for families or those with pets.
• The reflective surface makes it ideal for solar heating systems, resulting in considerable savings on energy bills.
• Polished concrete flooring is highly resistant to staining and damage, which makes it a great choice for high-traffic areas.
• It is also non-allergenic, reducing the dust and other allergens in the home.
• Polished concrete is a great choice for creating an eco-friendly space, as it requires no additional chemicals or treatments to maintain its shine and durability.
• As polished concrete flooring requires minimal maintenance, it can result in considerable savings on labour costs over time.
• Unlike carpets and other flooring options, there is no need to replace or repair polished concrete floors as they are durable.
• Polished concrete can also add an extra layer of safety in homes or business premises, as the surface is slip-resistant.
• The bright and shiny appearance of polished concrete also adds a touch of class and sophistication to any space.
• Lastly, polished concrete flooring can be used in various settings, from commercial to residential spaces. This makes it an incredibly versatile and attractive choice.
By combining polished concrete floors with good maintenance practices, you can keep your interior safe and healthy for many years.
Is polished concrete expensive flooring?
The good news is that polished concrete flooring can be an affordable long-term investment. Initial installation costs are usually comparable to other flooring materials such as carpet, tile and hardwood. However, the cost savings come in with the longevity of polished concrete, which can last decades without the need for expensive repairs or replacements. Additionally, if you decide to sell your home, having polished concrete flooring can add value and make it attractive to potential buyers. So, consider investing in polished concrete flooring for a healthier and more beautiful home.
Can any concrete floor be polished?
Not all concrete floors can be polished. The surface should be relatively flat and smooth, with no major cracks or damage. Additionally, the concrete should have enough strength to withstand the polishing process. Otherwise, it may crack during the procedure. Also, if your concrete has been stained or sealed previously, it may not accept a polish. You should seek professional advice from Flash Flooring before polishing your concrete floors.  Finally, some types of stone may not be compatible with the polishing process and should not be attempted. Speak with a professional for more information before beginning any project.
Flash Flooring is the Industry expert in Wollongong and Sydney.
At Flash Flooring, you can be sure of receiving the highest quality service and products. Their experienced team are highly trained in Polished Concrete flooring in Wollongong and Sydney and can help you with all your needs. From selecting the best finish to installing it quickly and efficiently, they will ensure that your project is a success. And if you have any questions or concerns, they are always available to provide professional advice. So if you're looking for the best and most affordable Industrial polished concrete floors in Wollongong and Sydney, then Flash Flooring is your solution. Contact us today for more information about all our services.  You won't be disappointed!